While trademark/trade dress and design patents are often used by sneaker brands to protect against similar sneaker designs released by competitors, utility patents have also been used to protect features of sneakers for over a hundred years. From Reebok's patent for its iconic Reebok Pump to Nike's patent portfolio relating to it Nike "Air" system, sneaker-related utility patents focus on specific inventive technologies and features incorporated into sneaker designs.
Over the years, Nike has aggressively – and successfully – pursued competitors whom they allege are infringing their patents. Another of Nike's famed utility patent portfolios is its "FlyKnit" technology patent portfolio, which relates to a knitted upper of footwear that Nike first introduced in 2012. Nike describes it as "a featherweight, form-fitting, and virtually seamless sock-like upper, scientifically tuned to provide areas of support, flexibility, and breathability where athletes need them most."  Nike has a substantial patent portfolio relating to FlyKnit technology.  According to Nike, FlyKnit is covered by almost 300 patents.
In recent years Nike has asserted a number of its FlyKnit patents against competitors like Puma, Sketchers, and Adidas. See, e.g., Nike, Inc. v. Puma N. Am., Inc., No. CV 1. 8-10876-LTS, 2018 WL 4922353 (D. Mass. Oct. 10, 2018); Nike, Inc. v. Adidas AG, 812 F.3d 1326 (Fed. Cir. 2016); Nike, Inc. v. Adidas AG, 955 F.3d 45 (Fed. Cir. 2020); Nike, Inc. v. Adidas AG, 2022 WL 4002688 (Fed. Cir. 2022). These cases settled in 2020, 2021, and 2022, respectively.
In its latest lawsuit, filed on January 30, 2023, Nike has sued Canadian apparel maker and athleisure brand Lululemon for patent infringement of three of its FlyKnit patents in Federal Court in Manhattan.  This lawsuit, Nike's second patent infringement lawsuit against Lululemon in the past year, is Nike Inc. v. Lululemon USA Inc., 1:23-cv-00771 (S.D.N.Y.). In the 10-page Complaint, Nike alleges infringement of three U.S. utility patents by Lululemon's Chargefeel, Strongfeel, and Blissfeel lines of women's running shoes.
The FlyKnit fabric is currently featured on a number of Nike running shoes and cleats, including the Nike Air VaporMax, Nike Invincible 3, and the Nike React Infinity 3. According to Nike's website, "Nike Flyknit technology uses high-strength fibers to create lightweight uppers with targeted areas of support, stretch and breathability…A material made up of strong yet lightweight strands of yarn that have been woven into a one-piece upper, securing an athlete's foot to the shoe platform." An example of the Nike FlyKnit upper is shown below: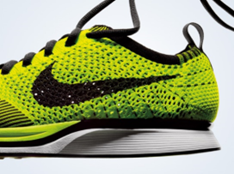 The three FlyKnit Patents-in-Suit include U.S. Patent No. 8,266,749, U.S. Patent No. 9,375,046, and U.S. Patent No. 9,730,484, which were issued in 2012, 2016 and 2017. As described in the Complaint, the first of the Nike patents relates to "a method of manufacturing an article of footwear with a textile element, where the textile element is simultaneously knitted with a surrounding textile structure, and the textile element has a knitted texture that differs from the knitted texture in the surrounding textile structure."  The second patent relates to a footwear article with "textile element containing a plurality of webbed areas and tubular structures that are adjacent to each other and configured to stretch to move the webbed areas from a neutral position to an extended position when force is applied."  The final patent is directed to "an article of footwear with an upper including a flat-knitted element with a central portion having a domed three-dimensional structure configured for extending over the top of a foot and that extends above the plane of a first and second side portion when in a flattened configuration."
Nike claims that Lululemon's Chargefeel, Strongfeel, and Blissfeel footwear lines (pictured below) infringe these patents:

These accused products are Lululemon's first running shoe lines, released last year. According to the Lululemon's press release for the launch of the Blissfeel in mid-2022, "Lululemon Blissfeel was developed after years of research and experimentation with materials, and with women's foot anatomy and biomechanics top of mind. It's designed to replicate the feeling of freedom and connection that running brings …The emphasis is on creating a feeling of lightness and freedom."
This is the second recent patent infringement lawsuit Nike has brought Lululemon. In January 2022, Nike also sued Lululemon, in that case accusing it's at-home Mirror fitness device and related mobile applications of infringing six Nike patents.
Written by Michael J. Kasdan, Partner, Wiggin and Dana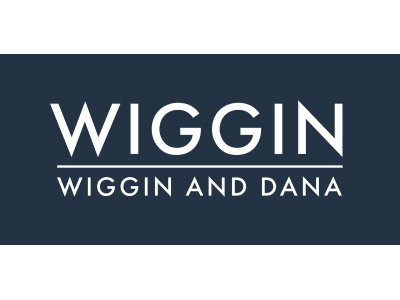 | MORE NEWS |  | WRITE FOR OUR NEWSLETTER |