We are delighted to announce that MPR Partners, a multidisciplinary and independent EU law firm with a focus on commercial law and a strong presence in Romania, has officially opened an office in the heart of legal London.
The London office is headed by the firm's co-founder and co-managing partner Alina Popescu. MPR Partners' main objective is to support clients with operations across the UK and the EU, bridging the geographical gap during the Brexit transition and beyond.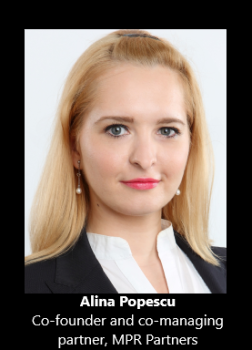 The firm's main practice areas in London will focus on technology, competition law, data privacy, insolvency and restructuring, employment law, international trade and investment, international arbitration, life sciences, aviation, sports law and financial services.
Alina commented: "We are delighted to announce the launch of our London office. With Brexit and the ensuing opportunities, the new office is a natural step forward that will meet our existing clients' demand for law firms with an international presence and hopefully help us to tap into new markets.
"Our international recognition to date and the outstanding feedback from our international clients, many of whom were hoping for us to expand abroad, give us the confidence that the opening of a London arm is the right move at this stage of our firm's development."
MPR Partners hopes to start local hires in London soon. In the meantime, the firm has a legal team with substantial experience in a wide range of practice areas and an extensive network of contacts across the globe, which allows the team to successfully and effectively handle any mandate.
Additionally, Gelu Maravela, co-founder and co-managing partner, commented: "We are thrilled to be opening an international office in London, a visionary city that boasts unparalleled legal expertise and a huge potential for businesses. As a result of the pandemic, we have realised the ever-growing importance of innovation and transboundary reach."
Gelu added: "Though it may seem like an ambitious move at this time, looking back at the numerous achievements of our past years together, MPR Partners has always been a bold firm and we don't plan this to change anytime soon. We are deeply grateful to all our partners for their support in making this happen."
About: 
MPR Partners is an international, award winning Romanian law firm with a client-orientated, innovative and creative approach.
Alina Popescu has been at the forefront of some of the largest projects and transactions, as well as of some of the most significant commercial and investment arbitrations involving Romanian counsels. She is an internationally commended lawyer with extensive expertise in M&A, competition, technology and commercial & corporate projects, as well as in regulatory and international arbitration matters.
Gelu Maravela has over 20 years of experience in the legal profession, being ranked amongst the most prominent lawyers in Romania. He has previously acted as a judge with one of the Bucharest courts, as well as an attorney at a Magic Circle law firm in London and an equity partner of a top tier Romanian law firm.
More news  Share your news with our Editor