Asia
Wenping & Co
Address: 17/F., Tung Wai Commercial Building, 111 Gloucester Road, Hong Kong, China.
Phone: +(852) 2511 0788
Website: https://www.wenping.com.hk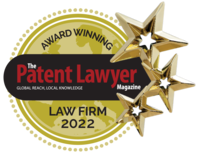 For over fifty years the firm of Wenping & Co. has been one of the leaders of Intellectual Property Agency groups in Asia.
As one of Asia's foremost Intellectual Property Groups, Wenping & Co. offers, with an international competence, specialized and comprehensive services in all aspects relating to the application, filing and investigation of patents, trademarks and registry, copyrights and trade secrets, including opposition and infringement counselling.
Our highly trained and experienced staff strives to stay well-informed on the cutting edge of developments and knowledge which affect our clients. In addition, we continually maintain our 'state of the art' technology, communication and research information systems in order to meet our clients' diverse and global needs.
Other offices: Tokyo, Osaka, Taipei, Singapore and China
Contacts:
Name: Kanina LAI
Job Title: Head of Patent Department
Email Address: kanina@wenping.com.hk
Name: Kenny LEUNG
Job Title: Head of Trade Mark Department
Email Address: kenny@wenping.com.hk