Asia
R K Dewan & Co
Address: Podar Chambers, S A Brelvi Road, Fort, Mumbai 400 001, India.
Phone: +91 (22) 61775300
Website: https://www.rkdewan.com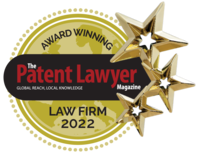 RKD has completed over 79 years of dedicated and excellent service in the IP field, one of the longest standing IP law firms in India with the highest reputation for quality, honesty, and expertise.
Representing over 5,000 corporate and individual clients worldwide reflecting top Indian companies, multinationals & Fortune 500 companies across a broad spectrum of industries & all technology sectors.
RKD has a stellar patent practice that includes all aspects of patent contentious and non-contentious services such as:
Patent prosecution
Drafting of patent specifications in all areas of technology for Indian & other jurisdictions
Filing & prosecuting applications at the Indian Patent Office and under PCT, and also internationally in over 125 countries in cooperation with our foreign associates.
In-house expertise to draft technical responses to office actions issued by Indian Patent Office, USPTO, EPO, Japanese Patent Office, Chinese Patent office and numerous other Patent offices
Comprehensive patent searching with legal analysis and opinion for Prior art, Novelty, Freedom to Operate, Invalidation of patents, Litigation support, White space analysis and Technology maps
Post registration services such as renewals and filing statement of working (Form 27) specific to Indian Patent law.
Patent litigation
Specialists in patent pre-grant & post grant oppositions, ex-parte proceedings
Invalidation/Revocation proceedings at the Intellectual Property Appellate Board, Chennai
Investigations conducted all over India to uncover patent infringement; anti-counterfeiting actions
Patent Infringement & appeal proceedings in Courts all over India at all levels of the judiciary.
RKD lawyers are skilled trial lawyers
Commercial IP
Assignment, licensing and technology transfer including negotiation, agreements & due diligence
Patent portfolio valuation (technical, legal & commercial)
Scrutiny and inspection of IP portfolios i.e. IP Auditing
IP monetization
Patent Searching
Prior Art, Patentability, Invalidation searches for Indian & International clients
Freedom to operate searches to cover all jurisdictions
Technology Maps & White space analysis
Comprehensive Reports along with sound, succinct legal opinion
PATENT MATTERS – Statistical highlights for the last 12 months
– Patent applications filed in India & Internationally (in over 100 countries) – Over 2100
– Total number of patent specifications drafted in-house per year (in nearly all areas of technology) – Approximately 1200
– Over 800 Examination reports & office actions responded in India & other jurisdictions internationally
– Approximately 300 searches conducted in-house for Indian & International clients namely prior art, freedom to operate, invalidation searches and technology maps.
– 250+ active opposition (pre & post grant), appeals revocation & infringement proceedings on-going in Courts across India/IPAB.
– RKD was ranked among the top 3 PCT filers consecutively in 2017, 2016, 2015 & 2014 and top 4 PCT filers in 2013 as surveyed by MIP.
– RKD is one of the Significant filers of domestic Indian patent applications, including for the top 8/10 Indian corporates, Government of India specifically, Ministry of Defence (DRDO), Ministry of Electronics and Information Technology, NIOT and the top educational & research institutes of the country.
– R K. Dewan's team comprises, ex-Controller from the IPO who are well-versed with best practices in order to assist clients more effectively to obtain their IP rights in a timely manner.
Dr Mohan Dewan & Dr Niti Dewan are highly renowned and respected in IP circles in India & internationally. Dr Mohan Dewan has the rare distinction of being an expert in every area of IP (patents, trademarks, designs, copyright, plant varieties – prosecution, litigation, strategy & transactions). Nitti Dewan is a medical doctor, a qualified patent and trademark attorney and a patent valuation analyst currently heading the patents and business development divisions at R. K. Dewan & Co. With over 22 years' experience in the IP field, Dr Dewan is a one-stop source for clients ranging from individuals to Fortune 500 companies which require business-savvy advice on cost-effective strategies for patent filing and prosecution in more than 100 jurisdictions worldwide.
Other RKD services include (but are not limited to): Patents | Trademarks & Service Marks | Copyright | Design | IP Litigation | Anti-Counterfeit | Agreement Drafting | Technology Transfer | IP Valuation | IP Audit | Prior art, Patent Freedom to Operate Searches | Technology Maps | IP Training & Education
RKD is highly sought after not just for its expertise in IP matters but also for its values of responsiveness, attention to detail, client-centric culture, and adaptability to changing IP landscapes, transparency and honesty in all of their dealings.